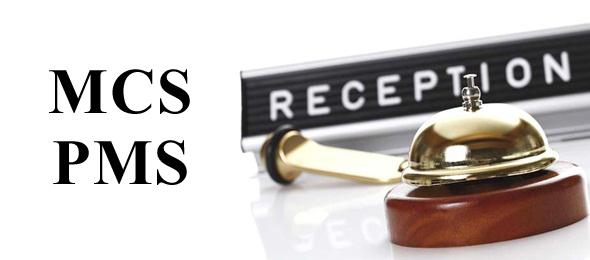 The hospitality industry was never short of competition. Customarily, it is the intangible services that attract customers and prompts guests to spend more, give a positive feedback and recommend the property to others. A company's front desk plays a huge role in ensuring long lasting relationships with the customers.
MCS identifies all the customer expectations and requirements and based on the challenges restaurants face, it provides MCS PMS- multi-faceted software that caters to each significant as well as mundane requirement of the customer. Any industry needs to grow and one of the scales to measure the growth is the rate at which it is securing new customers. MCS PMS has number of modules that are conceptualized to encompass all the services customers look for.
Terms used in hotel idiom such as RACK RATE, ROOM AVAILABILITY, WAKE UP CALL for GUEST, BUSINESS AUDITING REPORT etc., have been used on the front-end display. Our property management systems are used by leading properties around the world for their day-to-day hotel operations. Be it a hotel casino or resort, MCS PMS can be integrating with the system of all kinds of properties.
Product Module includes:
Front Office: This feature of the PMS module serves new arrivals as well as the departures. It takes care of each facade from maintenance, special services for occasions like birthdays, audit control, a list of tasks to be done periodically, etc. with the front office feature. For more personalized services like handling individual guest, creating a roadmap for every department that concerns with customer service and handling calls, Centralized Reservation System: As the name suggests, this feature facilitates smooth and simplified reservation of rooms. It gives the user information about the availability of the rooms, the pricing structure, the accounting, billing, etc. restaurants benefit by more effective agent management, revenue management, marketing etc.
Point of Sales: The Point Of Sales module has an array of configuration options and comprises of user-friendly modules for helping restaurants offer rapid service to customers.
Mobile POS: The POS system does have certain pain points or issues that reduce its effectiveness. Updating the POS, we provide Mobile POS that identifies all the challenges and facilitates easier workflow patterns, saving on server steps to fixed POS terminals. The product is supported by various platforms and devices that include Pocket PC and Windows CE devices, from "ruggedized" units to inexpensive consumer handhelds.
Debit POS: The MCS Debit POS helps retailers or hotels in gathering about its customers, based on which customers are offered discounts, offers, coupons and various other rewards.
House Keeping: Helping you to more efficiently manage the housekeeping department, this module has the facility for dashboard, maintenance of room, bars and it lets you give a richer experience to your guests by providing you with several capabilities.
Accounts: Moving beyond the conventional method of inputting entries into general ledger, the Accounts feature provides you interfaces to Tally, Sun Systems and helps you export purchase data, create a list of revenues and provides you a chat room facility.
TCMS: TCMS facilitates automatic posting of phone calls charges to guest accounts. It helps in preparing revenue reports based on cost centers that are user definable.
Banquet: The MCS Banquet is the ideal solution for banquets that have advanced event management/convention infrastructure. It facilitates booking in a desired time window and provides facilities ranging from managing menu cards, dashboards to the auto SMS and Mail features.
Payroll: Optimizing the HR and Payroll activities through configurable automated workflow, MCS Payroll provides you flexible options to create attendance records, salary structure and payroll reports. Using this feature, companies can also prepare SMS & Email alerts of late mark, joining, leave cancellation records, etc.
The features of MCS PMS include:
All-inclusive product supporting every module
Multi-platform and multi-currency support
Easy to use and staff-friendly
Secure with encrypted password protection
Integrated Payroll Management system
Provision of calendars on every screen
Detailed Telephone call meeting software integrated to PMS
Multi-featured Menu screens
Extensive modules for user training
Effective Inventory Management, Point of sale, Bar Stock Maintenance, Mobile POS and Back office Management.
Interface to POS Terminals
PMS Modules
Product Modules are